Public Service Futures
Robin Hambleton has written numerous practice-oriented articles on public service innovation. Designed to provide accessible insights for busy practitioners these articles are short and to the point.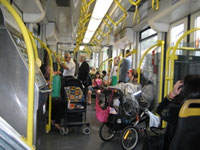 Urban Answers is happy to provide ready access to the series of fifteen articles he wrote in 2004-2005 for the UK Municipal Journal (MJ). We are most grateful to MJ for permission to reproduce articles from the series for this web page. Click here for more
Purpose of the series
The purpose of the series is to provide a regular flow of thought provoking articles bringing an international perspective to UK local government debates written in a way that encourages fresh thinking and innovation. The list below provides the title of each published article plus a very short statement about the content. Click on the title and you will reach the article.
This short article introduces the 'Public Service Futures' series. It suggests that experience abroad is important for all public service managers because global forces are now impacting all localities in all countries.
This article describes and evaluates the Chicago 311 telephone service. This three-digit non-emergency help line is used in Chicago and a growing number of other US cities. The article provides a positive assessment and advocates similar innovations in other countries.
This article examines two alternative conceptions of local government: 1) the classic consumer model picturing local government as a vending machine, and 2) the classic citizenship model viewing local government as a community building enterprise. References to US experience refresh familiar arguments.
This article summarizes the main lessons emerging from the global conference on 'City futures' held in Chicago on 8-10 July 2004. Over 200 scholars and practitioners from 36 countries participated in this forward-looking event. The article identifies three gaps identified at the conference that deserve attention in the future: 1) the gap between different countries, 2) the global north/south divide, and 3) the gap between practitioners and academics. More details of the conference including most of the papers are at: www.uic.edu/cuppa/cityfutures
This article examines approaches to public participation in the local authority budgetary process and highlights the experience of Porto Alegre in Brazil. Here local delegates from each of sixteen areas within the city make an influential input to decisions on the capital program for the entire city.
This article attacks the current obsession with the expansion of 'choice' in public services. It suggests that public services are not private businesses competing in a market to attract customers. Public services are very different. They provide a wide range of 'public goods' that benefit society as a whole, they often involve the rationing of limited public resources and they sometimes involve the deliberate restriction of choice. For these reasons the article argues that debates about local democracy should focus much more on the nobility and value of public service and much less on words like 'market' and 'competition'.
This article suggests that China is undergoing a seismic shift from a state socialist past to a largely market driven future. It discusses the growth of consumerism in the Chinese economy and argues that, with 13 million people being added to cities each year, China is heading for a decidedly urban future.This reshaping of the Chinese economy creates opportunities as well as formidable challenges.
This, the second of two articles on the new urban China, examines three major challenges facing Chinese city leaders and planners. First, how to formulate sensible transport policy in the face of sky-rocketing car ownership. Second, the serious problem of air pollution in many Chinese cities. And third, the growing social polarization now emerging within Chinese cities between a wealthy minority and the majority of citizens who scrape by on very low incomes.
By drawing on recent research on local governance in Europe this article suggests that the revitalization of local democracy needs to combine strong leadership with bold approaches to public participation. An example from Enschede in The Netherlands illustrates the argument.
This article, written to coincide with the UK Delivering Sustainable Communities Summit held in Manchester, provides an introduction to the debate about 'New Urbanism'. It identifies three main conflict zones in the debate relating to: architecture; spatial planning; and social equity.
This article examines the application of 'New Urbanist' concepts in the UK. It suggests that Prince Charles' pet project – the 'New Urbanist' Poundbury Village in Dorset, which was heavily influenced by US architects – may turn out to have more impact than many had supposed.
By drawing on research on the role of the Chief Executive Officer (CEO) in local government in continental Europe this article suggests that there are two main role models for the top manager: the 'classical' bureaucrat and the 'political' bureaucrat. Whichever model is adopted for the top officer it is clear that successful cities combine strong approaches to political leadership with equally strong approaches to managerial leadership.
This, the final article in the Public Service Futures Series, explores three kinds of cross-national policy transfer: 1) specific public service improvements, often taking advantage of new technology, 2) policy innovation to address pressing concerns, and 3) reforms in the institutions of local governance. Local culture and context matter enormously and the article argues for a more sophisticated approach to cross-national transfer in the future.
When he was Mayor of New York City Rudolph Giuliani made a significant impact. Written to coincide with his visit to speak at a major conference in the UK, this article examines his record of leadership. It suggests that appraisals of Mayor Giuliani need to recognize that the Mayor of New York City has enormous financial power when compared with city leaders in many countries. Directly elected mayors with feeble financial clout are, on this analysis, unlikely to make a major impact.
This article examines aspects of sustainable development in Melbourne, Australia. The Economist voted Melbourne the most livable city in the world in 2004 and the article explores some of the reasons why. Melbourne city planners have transformed the public realm in the center of the city and are setting new standards for urban design and ecologically sound architecture.